Welcome To Vermont Soapstone
Since the 1850s, Vermont Soapstone has been crafting the finest soapstone fixtures and home accents.
As durable as it is timeless, soapstone can seem to be a bit of an enigma…
Old & New? It feels equally at home in slick, modern settings as it does in antique home restorations.
Hard & Soft? Used even in high-traffic areas, soapstone flooring will last forever, and yet it is soft enough to shape using simple woodworkers tools.
Light & Dark? Left untreated soapstone has a cool blue-grey tone — oil it regularly to bring out its rich dark sheen.
Soapstone is gorgeous. It has a very soft texture, and wonderful veining. Soapstone never stains because it is non-porous. This also makes it the ideal kitchen surface — cleanups are an absolute breeze and there are no pores to retain bacteria from meat and fish.
If you are looking for something unique, choose VT Soapstone.
While you are here, please be sure to browse through our soapstone showcase galleries of soapstone countertops, sinks, and soapstone flooring — and be sure to drop us a note to let us know that you were here. We look forward to speaking with you about your soapstone project!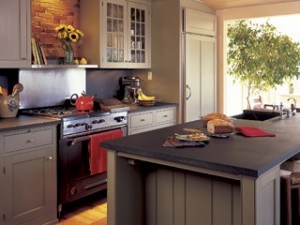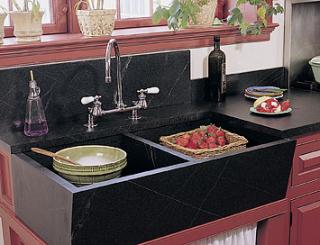 Contact us about your next soapstone project, to receive a brochure, or to request an estimate.